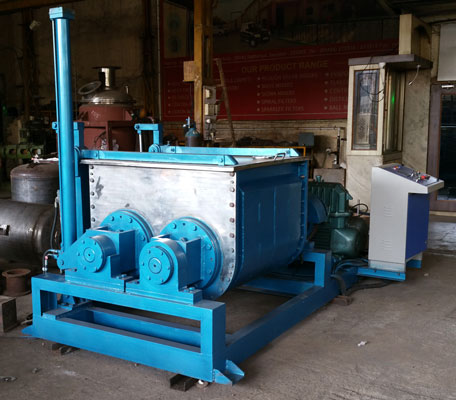 SPECIFICATION
S S ENGINEERING Lowboy Sigma Mixer design is similar to the standard height Mixer in many ways This unit will not require as much floor space or head room for installation. There is less need for structure platforms to load your product and the unit will tilt at drum height to unload. The compact unitized design allows installation of the Lowboy in areas that will not accommodate the standard height mixers.

Sufficient space is provided through the gland area to facilitate the maintenance of all

packing glands.

Drive direct connected motor through the gearbox or Belt drive can be applied. Sigma mixer lowboy is used to mix, knead, crush, disperse, grind and drying high viscosity paste which cannot be processed by the general powder mixers and liquid blenders.

Sigma mixer lowboy is one of the most important equipment for all kinds of chemical products and has the qualities of stirring equally, kneading efficiently and no dead corner.

The materials are rubbed, pushed, folded and pressed among the blade container wall. The materials cycle from one end of the impeller to the other. The two mixing elements (Blades) are tangent and spin at different speeds to complete the kneading process. Tilt the container to discharge the material by manual wheel operated by worm pinion mechanism.

The parts of the container and the blade that contact with the materials are made of stainless steel, to ensure product's quality.

Sigma mixer lowboy can be used for processing viscous to highly viscous material in various industries

Jacket is provided for application of Heating or Cooling
Vacuum Design
As per application Sigma Mixer can be design to operate in vacuum with Side glass Light glass.
APPLICATION
Chemical and Pharmaceutical Industry : Silicone resin, Sealant, Silicon rubber, Silica gel, Hot melt adhesive, Butyl rubber, Glass cement, BMC / CMC, Pigment, Plastics, Dyestuff, Ink, Fiber paste, Aluminium silver paste, Paper pulp, carbon material, battery paste. Tooth paste, Clay, Polyethylene, Pitch coating coke, Coal tar pitch etc.

Food Industry: Chocolate, Bubble gum, dough, chewing gum, soft candy, cheese etc.

Discharge Way: Hydraulic Cylinder Power Pack.

Heating: Electric heating, Oil circulation heating or Steam heating.

Material of Construction: Container made of either Stainless Steel 304 / 316 or Mild steel as per customers' requests.
Sigma Mixer Capacity, Size of container required Motor and overall dimension

Model

Total

Working

Container Size

REQUIRED MOTOR

Volume

Capacity

Length(A)

Width(B)

Height( C )

H.P.

K.W

AMPS

RPM

SS-60

750 LTR

600LTR

1000 mm

1000 mm

800 mm

30 H.P.

22

40

1460

40"

40"

32"

SS-100

1200 LTR

1000LTR

1200 mm

1200 mm

900 mm

40 H.P.

30

53

1465

48"

48"

36"

For Container Size and Overall dimension please refer Drawing No. SM-1

Container Size : -Container Length (A), Container Width (B), Container Height (C)

THE FOLLOWING CHART DEPICTS STANDARD MODELS AVAILABLE. BECAUSE OF THE CONTINUING EFFORT TO IMPROVE OUR PRODCUTCS, SIZE AND DIMENSIONS ARE SUBJECT TO CHANGE WITHOUT NOTICE.