APPLICATION

Chemical and Pharmaceutical Industry : Silicone resin, Sealant, Silicon rubber, Silica gel, Hot melt adhesive, Butyl rubber, Glass cement, BMC / CMC, Pigment, Plastics, Dyestuff, Ink, Fiber paste, Aluminium silver paste, Paper pulp, carbon material, battery paste. Tooth paste, Clay, Polyethylene, Pitch coating coke, Coal tar pitch etc.

Food Industry: Chocolate, Bubble gum, dough, chewing gum, soft candy, cheese etc.

Discharge Way: Tilting by manual wheel operated by worm pinion mechanism, Screw Motorise Mechanism, Hydraulic Cylinder Power Pack and Bottom valve discharge.

Material of Construction: Container made of Stainless Steel 304 / 316 or Mild steel as per customers' requests.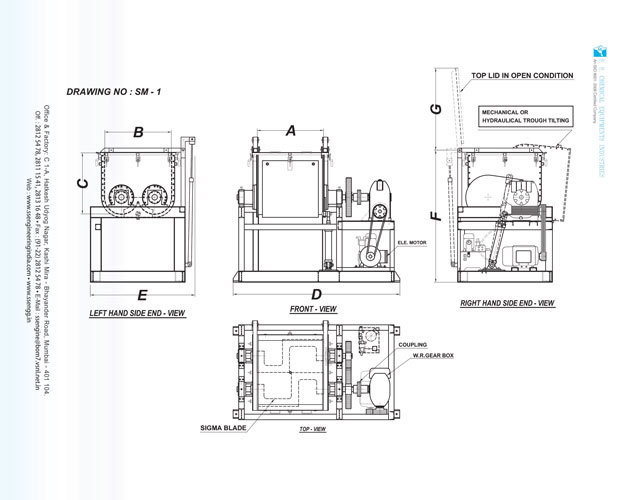 Sigma Mixer Capacity, Size of container required Motor and overall dimension

Model

Total

Working

Container Size

REQUIRED MOTOR

Mixer Overall dimension

Open

Total Weight

Volume

Capacity

Length(A)

Width(B)

Height( C )

H.P.

K.W

AMPS

RPM

Length (D)

Width (E)

Height (F)

Lid Height (G)

SS-60

750 LTR

600LTR

1000 mm

1000 mm

800 mm

30 H.P.

22

40

1460

3150mm

1750mm

2440mm

750mm

3000kgs

40"

40"

32"

124"

69"

96"

30"

For Container Size and Overall dimension please refer Drawing No. SM-1

Container Size : -Container Length (A), Container Width (B), Container Height (C),Mixer Overall Dimension :- Length (D), Width (E), Height (F), Lid Height (G)

THE FOLLOWING CHART DEPICTS STANDARD MODELS AVAILABLE. BECAUSE OF THE CONTINUING EFFORT TO IMPROVE OUR PRODCUTCS, SIZE AND DIMENSIONS ARE SUBJECT TO CHANGE WITHOUT NOTICE.